Online dispute resolution (ODR) has been steadily spread around the globe in the past 20 years and China is no exception. In fact, for a country as demographically and geographically large as China, adopting ODR was not a luxury but a necessity.
With the dramatic growth of internet users, e-commerce markets, and online transactions comes a growing number of disputes. Traditional dispute resolution methods have proved deficient in resolving these disputes for drawbacks such as the location of the involved parties, long processing times, and high costs.
China is home to 989 million internet users, world-leading e-commerce giants worth 1.2 trillion dollars, 872 million users of e-payment methods. Parallelly, one would ask, what is the status of ODR providers in China? There are three internet courts, e-tribunals, and more than 30 online arbitration institutions in China.
For a foreigner, how can a business out of China initiate a commercial dispute against a Chinese company or business? To initiate an international commercial dispute with a Chinese party, apply to mediation via the International Commercial Expert Committee (CICC) or the China (Hangzhou) Intellectual Property and International Commercial Mediation Cloud Platform (CCPIT) or for arbitration via the China International Commercial Court or the China International Economic and Trade Arbitration Commission (CIETAC and CCPIT).
What are the expected arbitration costs in China? The minimum expected cost for arbitration in China is $3,100 and varies depending on the center and the disputed amount.
See the list below for cost breakdown:
Registration fees: (USD) $1,550 (Average ranges $15 to $930).
Center Fees: (USD) $1,550 plus percentage of the disputed amount (Could reach to a minimum of $2,000).
So, What are the expected time for arbitration in China? The average expected for arbitration in China is 4 months to 6 months. It is important to note that many factors such as the value and complexity of the dispute affect the expected resolution time.
Below is a summary of the main online mediation and arbitration providers in China and E-courts.
ODR Provider
Scope
Online mediation platform
Mainly National Level (Commercial disputes)
Courts of the internet – Hangzhou
International (Commercial disputes)
Courts of the internet – Beijing
Mainly National Level
Courts of the internet – Guangzhou
Mainly National Level
China arbitration institution
International (Civil and Commercial dispute)
Online People's Mediation committees
National (Civil disputes)
Self-Contained Online Resolution Platforms
(Alibaba, Jingdong and Gome) C2C and B2B platforms
International
(Commercial disputes)
China International Commercial Court Platform
(CIETAC and CCPIT)
International arbitration institutions
China International Economic and Trade Arbitration Commission
(CIETAC)
International arbitration insitutions
Summary of China online courts and online mediation and arbitration institutions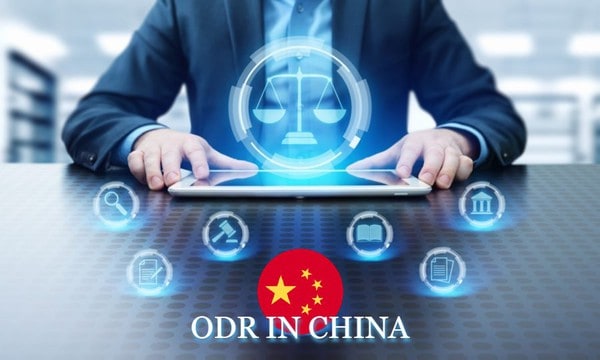 Covid-19 impact and the increase in e-commerce is also discussed in Online Dispute Resolution ODR in China and its future and The Impact of Coronavirus on Arbitration and ODR.
Speaking of online platforms, one of the rising causes of disputes are those related to cryptocurrency, check our analysis and information on this in How To Dispute a Crypto Transaction? Full Guide
Types of ODR providers in China
ODR is provided in judicial and extrajudicial institutions in China, each specializing in different dispute fields. Extrajudicial ODR providers are divided into three categories: Online mediation platforms for pre-trial mediations, online arbitration platforms developed by arbitration institutions, and self-contained platforms developed by e-commerce platforms.
1- Judicial ODR platforms
A. Online Mediation Platform
To save people the time and expenses of litigation as well as giving them more access to justice, China introduced the online mediation platform in early 2018. This platform connects all the 3502 Chinese courts, 32937 mediation institutions, and 165333 mediators.
In 2020, the platform has successfully resolved 5.2 million disputes. 65 percent of them were successfully resolved. Since its creation, 13.6 million disputes were settled.
The mediation on this platform has to be concluded within 30 days. If the dispute is unresolved, the involved parties will be referred to trial.
B. Courts of the Internet
China's three online e-courts are located in Hangzhou (2015), Beijing (2017), and Guangzhou (2018). Moreover, there are online tribunals founded inside the traditional courts in different cities and provinces across China such as Shanghai, Shenzhen, Wuhan, and others.
The role of these online courts is to rule over e-commerce related disputes. These disputes could be concerning contracts or purchases, financial loans, services, and copyright… etc. they offer 24-hour online access and self-service. Interestingly, these courts adopt mediation as the dispute resolution method.
According to judges from these courts, more than 700 dispute is resolved every year.
2- Extrajudicial ODR platforms
A. Online Arbitration Institutions :
According to China Arbitration Institution, more than 30 out of 255 arbitration institutions in China provide online arbitration. Disputes arbitrated online account for more than 40 percent of all the arbitrated disputes in 2019, and with an enforcement rate of 75 percent.
Some reputed arbitration institutions that have adopted online arbitration are the China International Economic and Trade Arbitration Commission (CIETAC)'s Domain Name Dispute Resolution Center (DNDRC) and the CIETAC Online Dispute Resolution Center.
B. Online People's Mediation Committees:
Also known as civil mediation committees, the People's Mediation Committees (PMCs) are autonomous organizations where the mediators are not judges or lawyers and whose role is to mediate civil disputes. Many PMCs provide online mediation services with the aim of promoting mutual understanding and agreements. One famous example of an online people's mediation platform is Bayu Peacemaker.
C. Self-Contained Online Resolution Platforms:
The self-contained platforms are the internal ODR systems of e-commerce websites such as the ODR of Alibaba Group's Taobao, Jingdong, and Gome. Alibaba.com's Taobao and Tmall are leading e-commerce websites.  The consumer-to-consumer (C2C) Taobao and business-to-consumer (B2C) Tmall have incorporated their own internal ODR in which their customer service handled disputes. For details on how to initiate a dispute on Alibaba, check out How to Win Disputes on Alibaba: The Ultimate Guide.
In 2013, however, the disputes were handled by amateurs from the public. Moreover, Taobao.com launched the User Dispute Resolution Center in 2012 to resolve disputes between them and traders, which later expanded to include disputes between traders and consumers.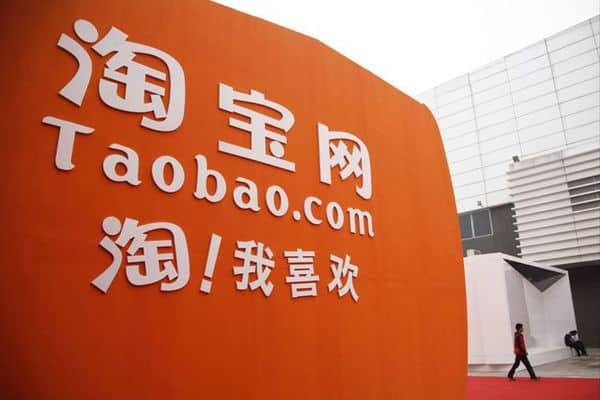 International E-commerce Disputes on ODR platforms
The high costs and long processing periods required to complete a cross-border dispute of the traditional litigation way are huge obstacles facing e-commerce users. Luckily, there are many e-commerce dispute resolution platforms that accept international cases.
1- The Hangzhou Internet Court Cross-border Trade Tribunal
The Hangzhou Internet Court has established a cross-border trade tribunal in 2020. The tribunal is specializes in international e-commerce disputes.
This is the first People's Court in the country to conduct a centralized trial of cross-border digital trade disputes in accordance with the law. Immediately after its establishment, the court heard its first case between a Singaporean user and Alibaba's Tmall who claimed that the received order, a computer, did not match the purchase contract.
2- One Stop: China International Commercial Court Platform
China International Commercial Court's One Stop is another court that serves as an e-commerce dispute resolution platform where international or domestic litigants can choose between mediation, arbitration, or litigation.
The platform is home to different reputed arbitration and mediation institutions such as the China International Economic and Trade Arbitration Commission (CIETAC) and the China Council for the Promotion of International Trade Mediation Center (CCPIT).
3- China International Economic and Trade Arbitration Commission (CIETAC)
When it comes to international arbitration, the China International Economic and Trade Arbitration Commission is leading the way in China. It resolves foreign-related commercial cases as well as domestic cases where it accepted 739 international cases out of 3615 total cases in 2020.
CEITAC prides itself on its lower fees when it comes to international disputes and shorter time to conclude a dispute compared to other international arbitration services around the world.
Accessing and Using These Platforms as a Foreigner
The process of applying to an e-court, arbitration, or mediation service is somehow similar across their websites. Let's take China International Commercial Court's One-Stop as an example.
Chinese ODR platforms that offer international e-commerce disputes usually have their websites in English besides Chinese. This allows international users to easily and quickly access and understands all the procedures.
The flow chart:
1. Users have to register and log in to their accounts on the One-Stop platform
2. After logging in, you choose the resolution method you see most fitting to your case in the platform offers different ones.
3. A. Mediation: If you choose mediation, you then have to submit the necessary materials, which will then be reviewed by the website. Afterward, you will choose the mediating entity that will handle your case, namely mediating with a member from the Commercial Expert Committee or with a mediation institution. If the mediation concludes successfully, the CICC will issue a conciliation statement or judgment. If the mediation fails, you will be directed to litigation.
3. B. Arbitration: If you choose to arbitrate your case, you will immediately be asked to choose an arbitration institution from the ones listed on the platform. After that, you will fill the institution's application form, arbitral awards application, and others. The judgment of arbitration is binding and non-appealable.
3. C. Litigation: initiating litigation starts with pleadings submission, which will then be reviewed by the court in charge. Following the case registration, hearing sessions will be scheduled. The final decision will follow.
In some cases, these e-courts will adopt asynchronous trials that allow international litigants who live in different time zones to participate in the hearings. The litigants are allowed to log in and record their answers to questions posed by the opposing party or the court at any time. The judge will be able to oversee the entire recorded arguments and access any shared documents.
Litigating E-commerce Disputes with Chinese E-Courts: Pros and Cons
Pros of Chinese E-Courts:
Chinese e-courts are cost-effective even in international claims. For example, if the disputed amount is $1000, your fees are $10 only.
2. Chinese courts enforce the judgments easily on Chinese defendants.
3. they are less time-consuming than traditional courts.
4. they offer asynchronous trials.
Cons of Chinese E-Courts:
1. You must have a contract with the seller that is not only electronic such as those via email. Otherwise, these courts will not consider it an e-commerce case.
2. The e-commerce seller must be located within the court's jurisdiction. That is, they have to be in Hangzhou, Beijing, or Guangzhou. Most big e-commerce markets are located in these cities.
3. if the seller is not located within the e-courts cities, the delivery location must be within them. If neither the seller nor the delivery location is in 2. The e-commerce seller must be located within the court's jurisdiction. That is, they have to be in Hangzhou, Beijing, or Guangzhou, you have to refer to the traditional courts.
4. You need to have a Chinese mobile phone number to register and initiate the process.
5. You will not be able to complete the authentication as it requires a WeChat or AliPay face recognition and both are bound to Chinese Banks only. In this case, you have to use a Chinese Lawyer to complete the authentication on your behalf.
6. You will have to submit a notarized and certified copy of your passport by the local Chinese embassy or consulate in your country to the Chinese lawyer. This adds more expenses.
Expected time and costs
the processing time and costs using these platforms vary greatly depending on the case, third-party service providers, the resolution method such as mediation, arbitration, or litigation.
However, you should expect the following fees.
Court costs: If the platform is hosted by a court or in case of litigation, court costs and other fees are payable for each court order applied for and will include at least an acceptance fee and an application fee.
Third-party Service fees: if the platform includes and allows third-party mediation or arbitration institutions, their service registration and acceptance fees will apply.
For example:
Arbitrating with China International Economic and Trade Arbitration Commission: arbitration is usually concluded within four to six months, fees differ depending on the type of dispute and the center handling it: some cases require a registration fee of around $1550 in addition to a percentage of the disputed amount of at least $1550. Others will require a minimum registration fee of $15.51 and a handling fee of at least $930. When arbitrating with the Hong Kong Center, the registration fee is $1028.87 in addition to at least $2057.74 from the disputed amount.
Therefore, you should expect to pay at least $3100 to arbitrate with CIETAC.
Conclusion:
ODR platforms in China are evolving slowly but surely. With the Covid-19 pandemic hitting China aggressively, courts were obliged to look for other alternatives to in-person hearings and filing. Moreover, alternatives to litigation also proved to be more suitable to solve online born disputes such as e-commerce and copyright disputes.
From courts of the internet such as the Hangzhou Court to online mediation and arbitration platforms such as CIETAC and One-Stop, Chinese citizens, as well as internationals, are now able to fight back when they are victimized by any Chinese e-commerce market such as Taobao, AliExpress, or Tmall.