There are two types of disputes on Freelancer.com: buyer-seller disputes and user-Freelancer.com disputes. The disputes that arise between buyers, also called clients, and sellers, known as freelancers, usually involve payment or contract disagreements. The latter type arises when a user, a buyer of a seller, is unsatisfied with any of Freelancer.com's services.
To resolve such disputes, Freelancer.com has a dedicated dispute resolution center and a customer support website. Read on to know exactly how Freelancer.com resolves disputes between users and disputes against it.
Freelancer, the Sidney-based freelance marketplace, is one of the world's most successful freelance and crowdsourcing websites. It has over 55 million users and 20 million posted jobs making it the largest of all freelance websites.
As such, competition between freelancers to win projects is at its highest making them less attentive to jobs' requirements and details and more to give the best and quickest bid. Clients, on the other hand, may also be responsible for hiring the cheapest bid regardless of the freelancer's actual skills. Sometimes, however, you just end up working with the wrong person regardless of your best efforts.
While you're here, we can also help you resolve disputes on Upwork, Airbnb, AliExpress, Alibaba, Shein, Amazon, PayPal, and eBay. In addition, you can educate yourself on other issues such as the right to repair in The Right to Repair: Is It Illegal to Repair Your Own Phone?
Client-Freelancer Dispute Resolution Process
Milestone Dispute Resolution
Milestone Payment System is a payment method offered by Freelancer.com in which some contracts will be conducted. Clients deposit funds for a project, which they will release to the freelancer upon the successful completion of the project.
This doesn't mean that the freelancer will only get paid if the client finds the submitted work satisfactory. He/she can initiate a dispute to receive the money they owe if the client refuses to release milestone payment to a freelancer despite receiving the work agreed upon. The client can also initiate a dispute when the work submitted by the freelancer differs from the work agreed upon. Either party is able to initiate a dispute when Milestone Payments are involved.
Clients can initiate this dispute to request a refund for a released payment or to avoid releasing the payment for an unsatisfactory project. Meanwhile, freelancers can initiate this dispute if clients refuse to release their payments for a completed and submitted work.
Here's how Milestone Dispute Resolution works: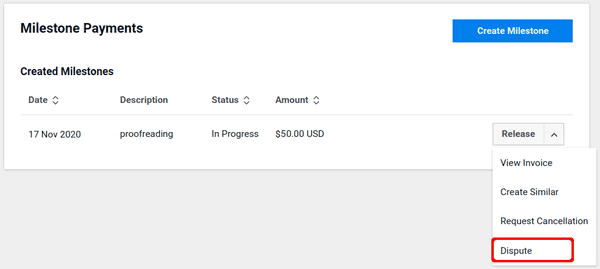 Select "Disputes" from the "Help" menu and tick the milestone payment and user you wish to dispute, or
Go to the milestone payment that you wish to dispute and select "dispute" from the dropdown menu on the right.
On the Disputes page, add the amount you want to dispute, the reason for filing the dispute in detail, and all supporting documents as evidence.
Upon receiving the dispute request, Freelancer.com will notify the involved parties of the initiation of the dispute. The process goes as follows:
Initiation stage: the seller and buyer have 14 days to respond to the dispute. Failing to so will automatically close the dispute in favor of the initiating party.
Negotiation stage: the seller and buyer negotiate a partial compensation without involving Freelancer.com. If negotiations fail, the initiating party can request arbitration by Freelancer.com's Dispute Team after 4-7 days and pay the fees. Fees are reimbursable if the parties resolve the dispute amicably before reaching arbitration. The other involved party has 4 days to pay the arbitration fees. Failing to pay the fees will close the dispute in favor of the initiating party.
Final offers and evidence stage: up to this stage, both parties can submit relevant evidence and documents. By the start of the arbitration stage, no further evidence will be accepted.
Arbitration stage: Freelancer's Dispute Team will review all provided evidence. They have the right to also review all correspondence between the involved parties including shared images, links, and programs. The arbitration award will be made within 48 hours, and it's final and binding.
The winning party will be reimbursed for the dispute fees.
Other Disputes Resolution
Because the dispute resolution service is only available for Milestone Payments, all other disputes between users of Freelancer.com will be resolved through their customer support website or by contacting them on [email protected].
Freelancer.com will make the final determinations concerning all disputes between users based on evidence that they rule relevant.
User-Freelancer.com Dispute Resolution Process
Disputes arising between users, both clients and freelancers, and Freelancer.com are resolved in two stages, negotiation and arbitration.
1. Negotiation:
Freelaner.com encourages amicable negotiation regarding any disputes with them. Therefore, users can contact them using their customer support website or their support email.
2. Arbitration:
In case Freelancer.com and the concerned user are unable to resolve their dispute, Freelancer.com can opt for arbitration with an alternative dispute resolution (ADR). The process will go as per the arbitrating institution's rules. However, here's what you need to know about Freelancer.com's arbitration terms:
Freelancer.com will provide a list of ADR providers from which the freelancer has to choose one.
The arbitration can be conducted in any way except in-person sessions. The initiating party will decide whether it is conducted by the phone, online, or paper submissions.
Users cannot file a claim on a class or representation basis.
The arbitration award is binding.
Expected Processing Time and Fees
Arbitrating a Milestone Payment dispute with Freelancer's Dispute Team can take up to two days from the start arbitration process. Amicable negotiation between clients and freelancers can take as short as 4 days and last 7 days since the initiation of the dispute.
When it comes to arbitration fees, you should expect to pay Freelancer.com at least $5 or 5% of the disputed amount, whichever is higher.
Disputes between users and Freelancer.com have no exact time and cost for arbitration. That is because it depends primarily on the ADR provider that will handle your dispute. Freelancer.com, however, insures that these disputes will be arbitrated in a "cost-effective manner".
How to Avoid Disputes on Freelancer.com
Disputes can arise for a wide variety of reasons, and some may not even make sense. Yet, taking some preventive measures will minimize the chances of ending up in a dispute significantly. Here's a list of few things you can do to avoid disputes on Freelancer.com:
Read the job description carefully.
Always discuss the project, requirements, and the client's preferences and expectations before accepting the job.
Ask screening questions to the freelancer about the job's details or for a work plan to make sure they have the required knowledge and skills for the project.
If any job requirements feel ambiguous or confusing, ask questions and wait for answers.
Recapitulate the job's requirements and any relevant detail at the end of your discussion and before accepting the job to clarify and avoid any misunderstandings.
Verify the user's history.
Ask for updates/ Keep the client updated on the work's progress by sharing screenshots or drafts before submitting the final draft.
How to Win Disputes on Freelancer.com
Winning disputes on Freelancer.com is bound to the evidence you and the other party provide. Because Freelancer's Dispute Team will automatically access your correspondence and everything that was shared between the two parties, it is evident that every detail matters, and the quantity and quality of evidence can turn the tables.
So, to win disputes on Freelancer.com you must:
Make all the effort to make amicable negotiations successful. If you have the least doubt in your chances of winning arbitration, negotiation might be your best bet so use it wisely.
Make your case in a straight and confident way. Freelancer.com will hear from both of you, and the way you tell your side of the story may be the game changer.
Provide as many proofs and documentations as possible.
Don't miss deadlines.
Read this article thoroughly. Seriously, knowing the rules governing dispute resolution will make a huge difference.
Conclusion
Being the largest freelancing marketplace speaks of Freelancer.com's success in delivering what it promises. Yet, it also means more competition and more chances of working with the wrong people, and disputes become inevitable.
When a dispute arises between clients and sellers over a Milestone Payment, they have the option to negotiate it amicably or escalate the dispute to binding arbitration. However, any other dispute will only be resolved through Freelancer's Customer Support.
Disputes that arise between Freelancer.com and its users will go through Customer Support negotiation and, if unresolved, will proceed to a binding arbitration managed by a third-party ADR provider.
Taking your precautions before accepting jobs or hiring freelancers can prevent disputes from happening in the first place. As they say, prevention is better than cure.
Now, when the dispute does happen, make sure you communicate your side of the story clearly and confidently. You will also need to sustain your words with evidence, plenty of it.